This concept was developed during my time at Born + Raised.
Heathrow Commercial Telecoms (HCT) is a division of SITA that works solely for the businesses at Heathrow Airport. Despite their built-in customer base, not all businesses within the airport are aware of what HCT can provide. Born + Raised was tasked with producing a brand awareness campaign to help HCT generate new opportunities and communicate its wider service offering to existing customers.
I worked closely with a copywriter to come up with a concept that would portray HCT in a novel way – one that would create a talking point for the sales team and potential customers.
Despite only serving customers within the airport, and the division's headquarters being located at Heathrow, HCT isn't the sole telecoms provider for businesses at the airport. Knowing this, we needed to find HCT's point of difference; why was it best placed to help businesses at Heathrow Airport?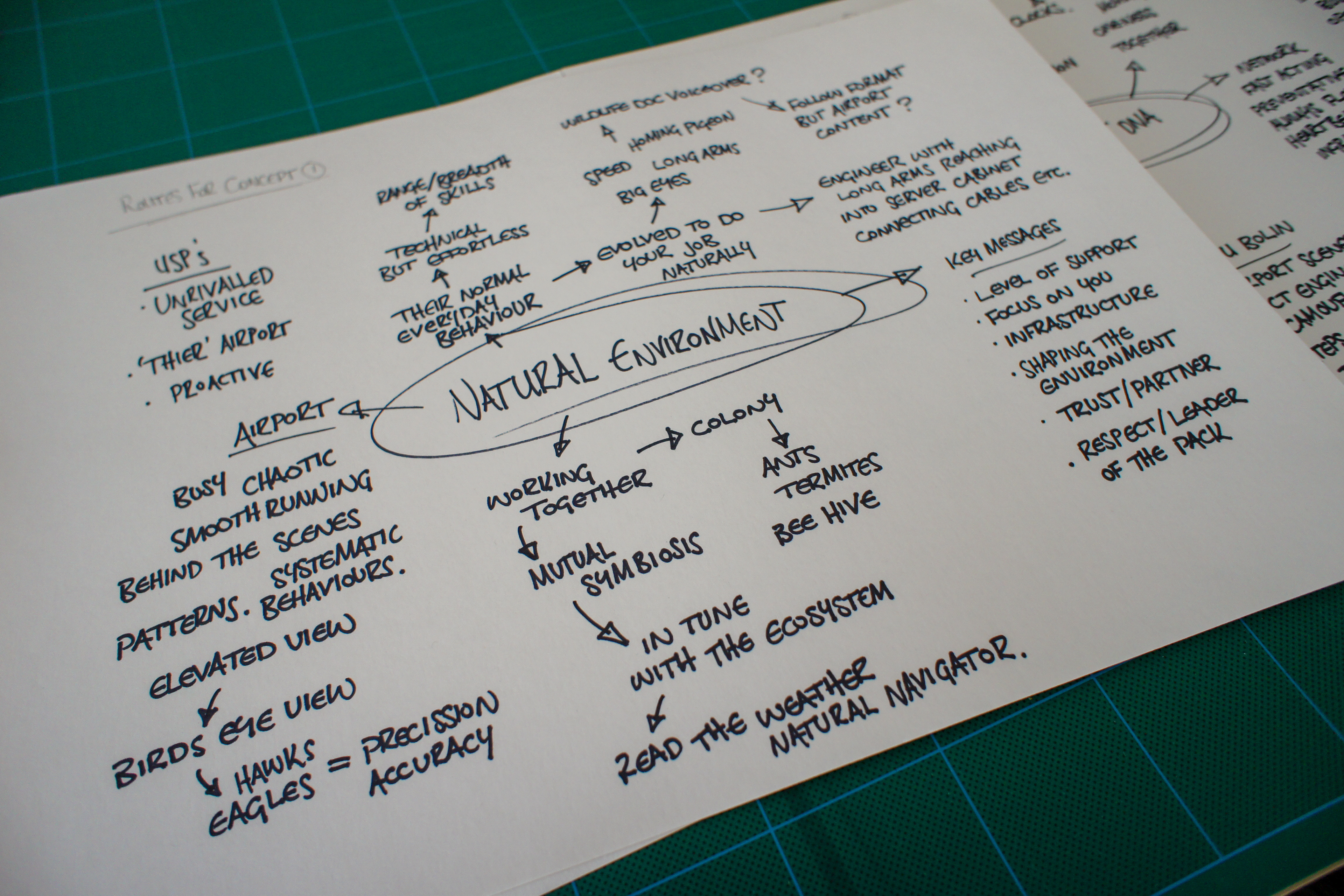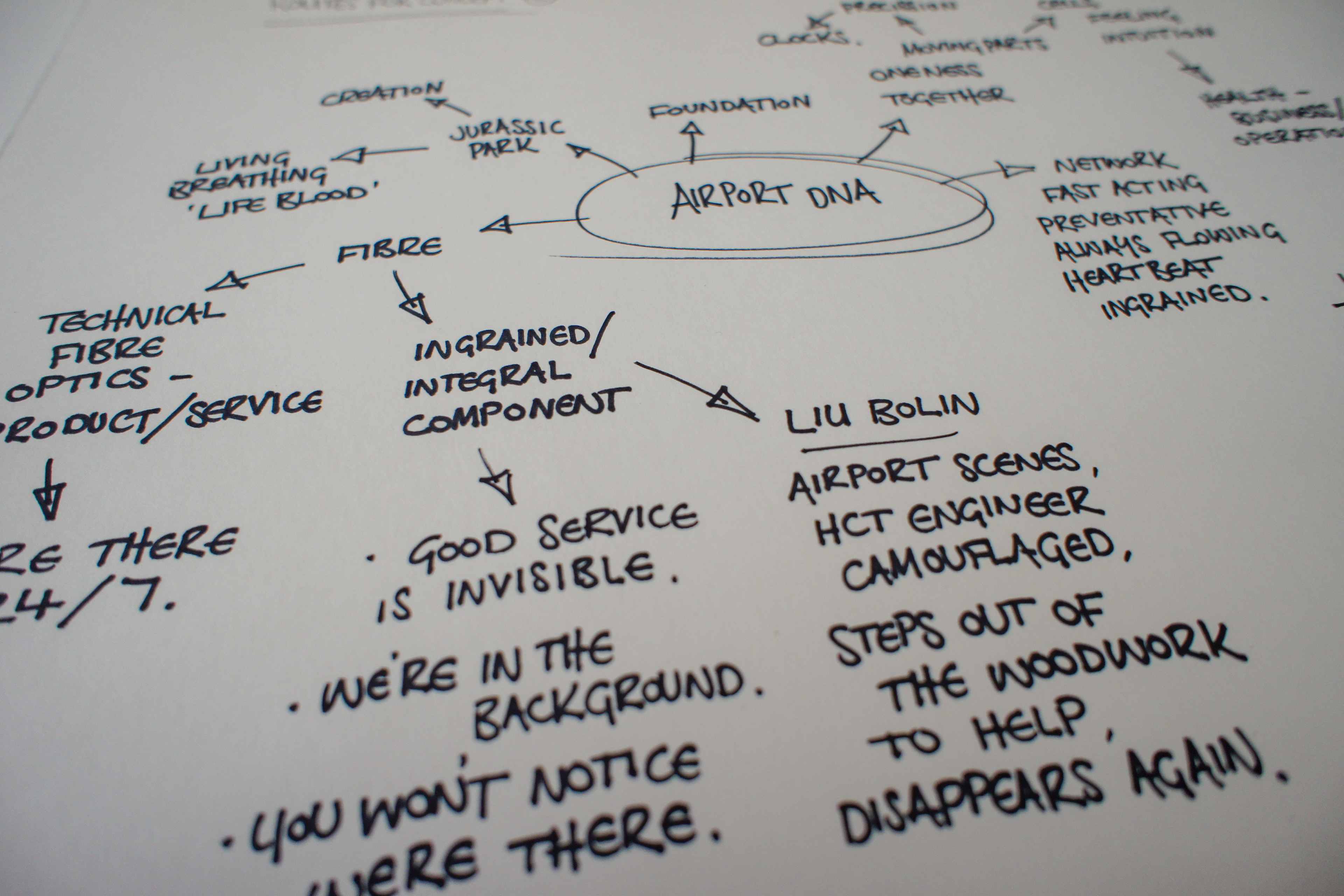 That question helped us realise a key insight – that HCT is physically best placed to service its customers. Its engineers are only a short distance away and already have the required security clearances in place to gain immediate access to even restricted areas of the airport. This means HCT can provide rapid on-site support.
This is just one aspect that sets HCT apart from other telecoms providers. Their proximity, speed and level of access combined with an unparalleled knowledge of the terrain means the company fully understands the challenges and operating parameters of this particularly unique (and sometimes high-pressure) business setting. Heathrow Commercial Telecoms is embedded in its environment; from IT infrastructures and CCTV systems for the airport along with several airlines, to Wi-Fi services and payment systems for many of the retail and food outlets. So, we came up with the idea to portray Heathrow Airport as a thriving ecosystem that HCT is an integral part of – an ecosystem it has evolved to serve.
This thinking led us to the 'Operating in our Natural Habitat' concept.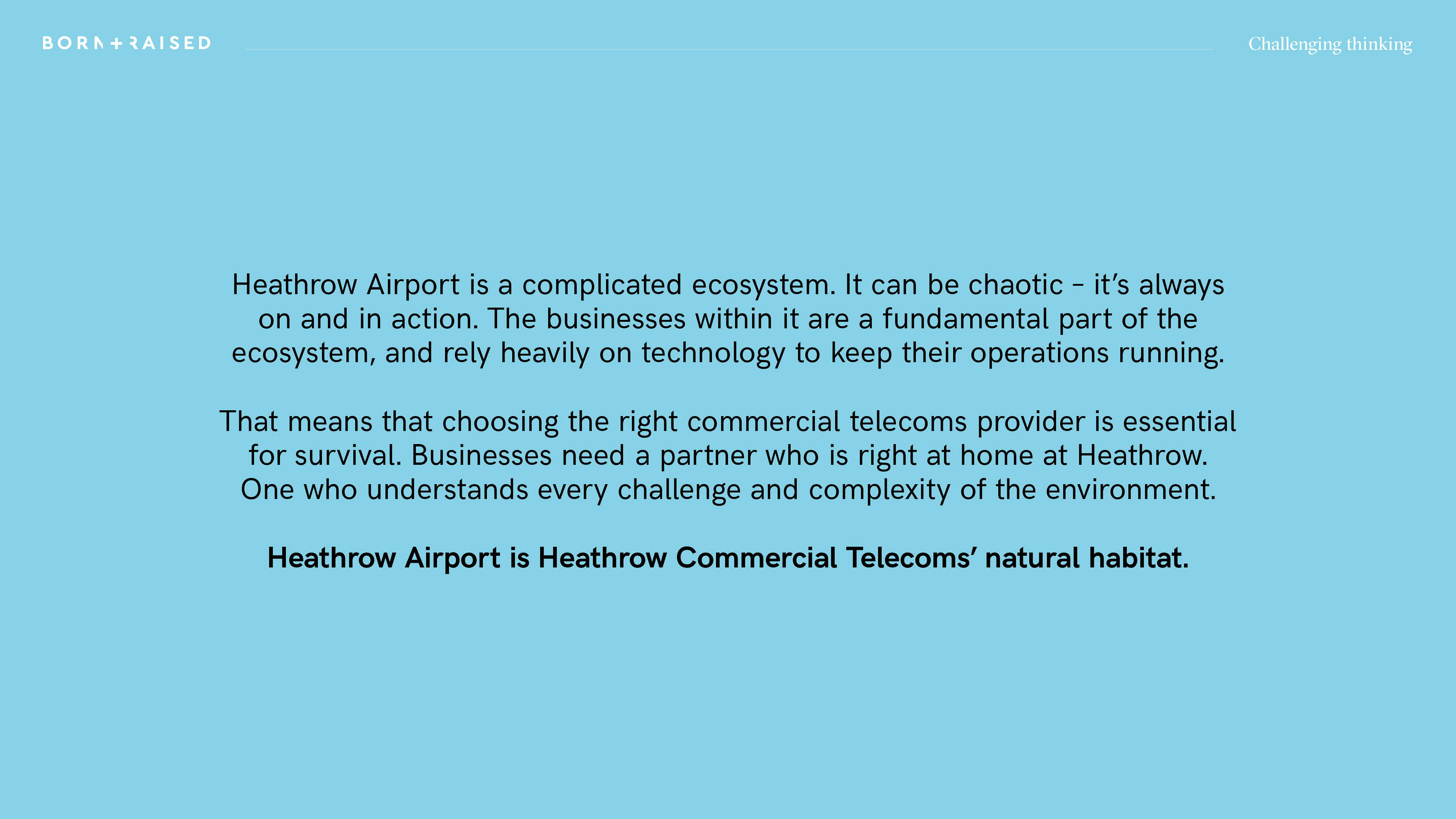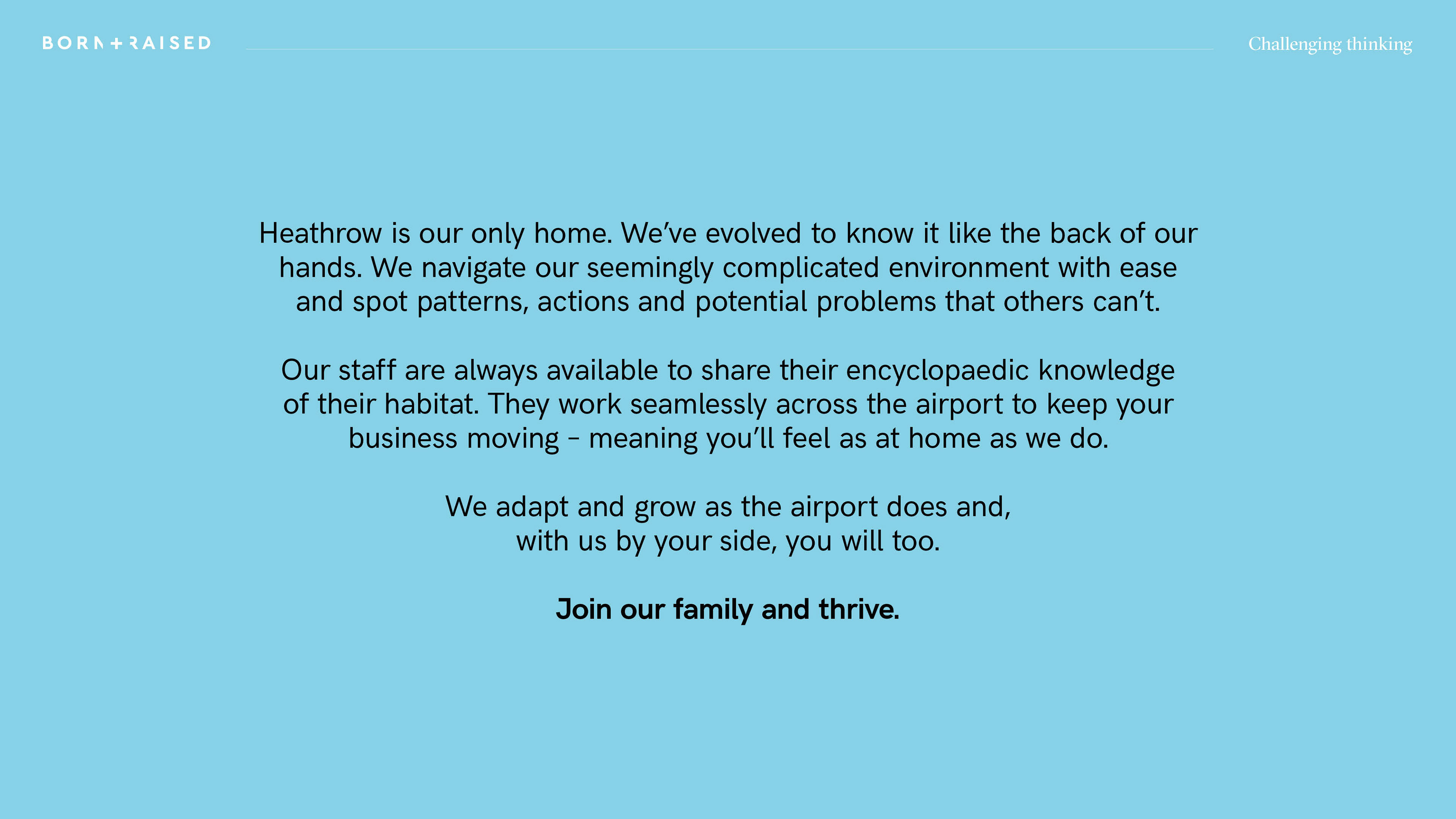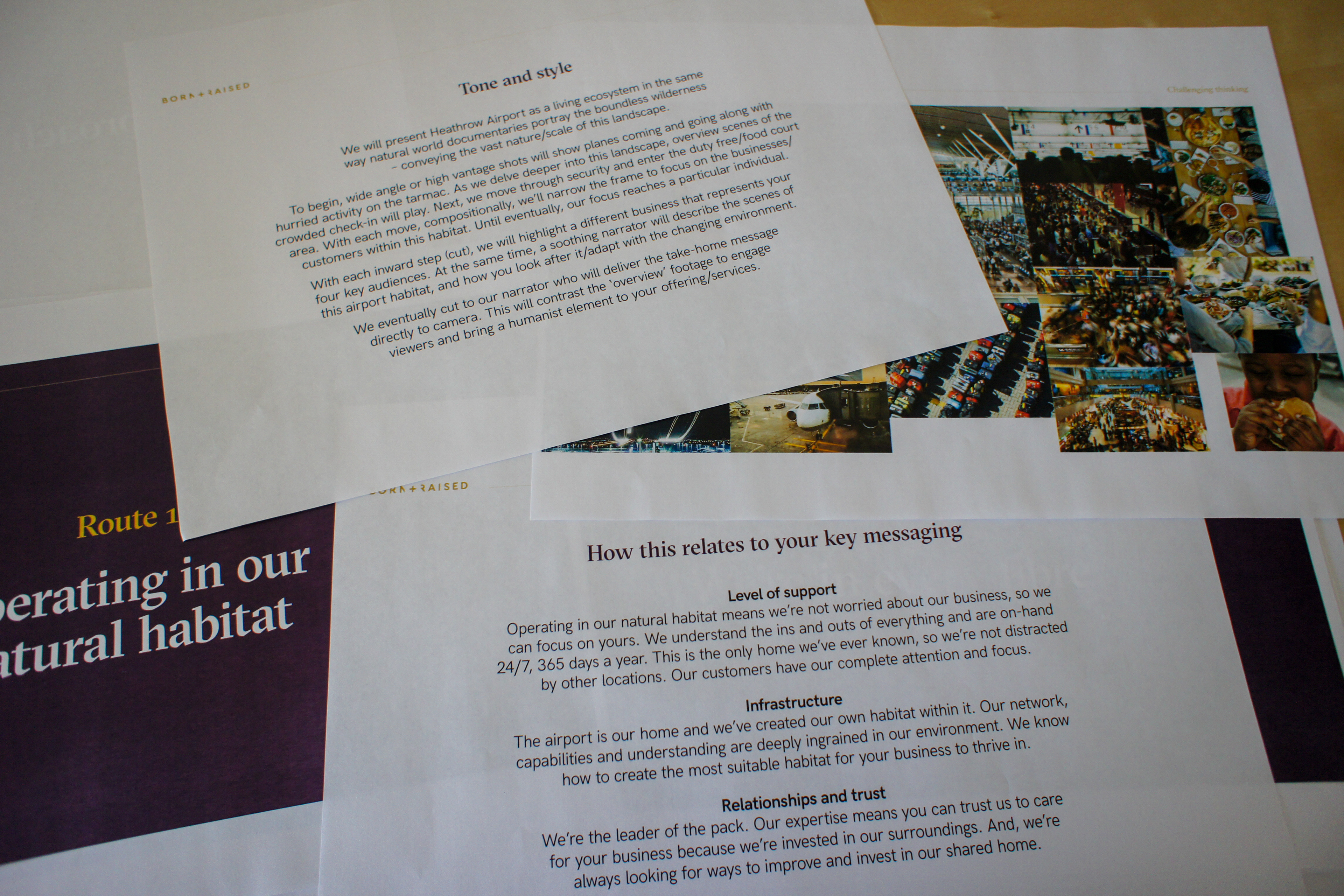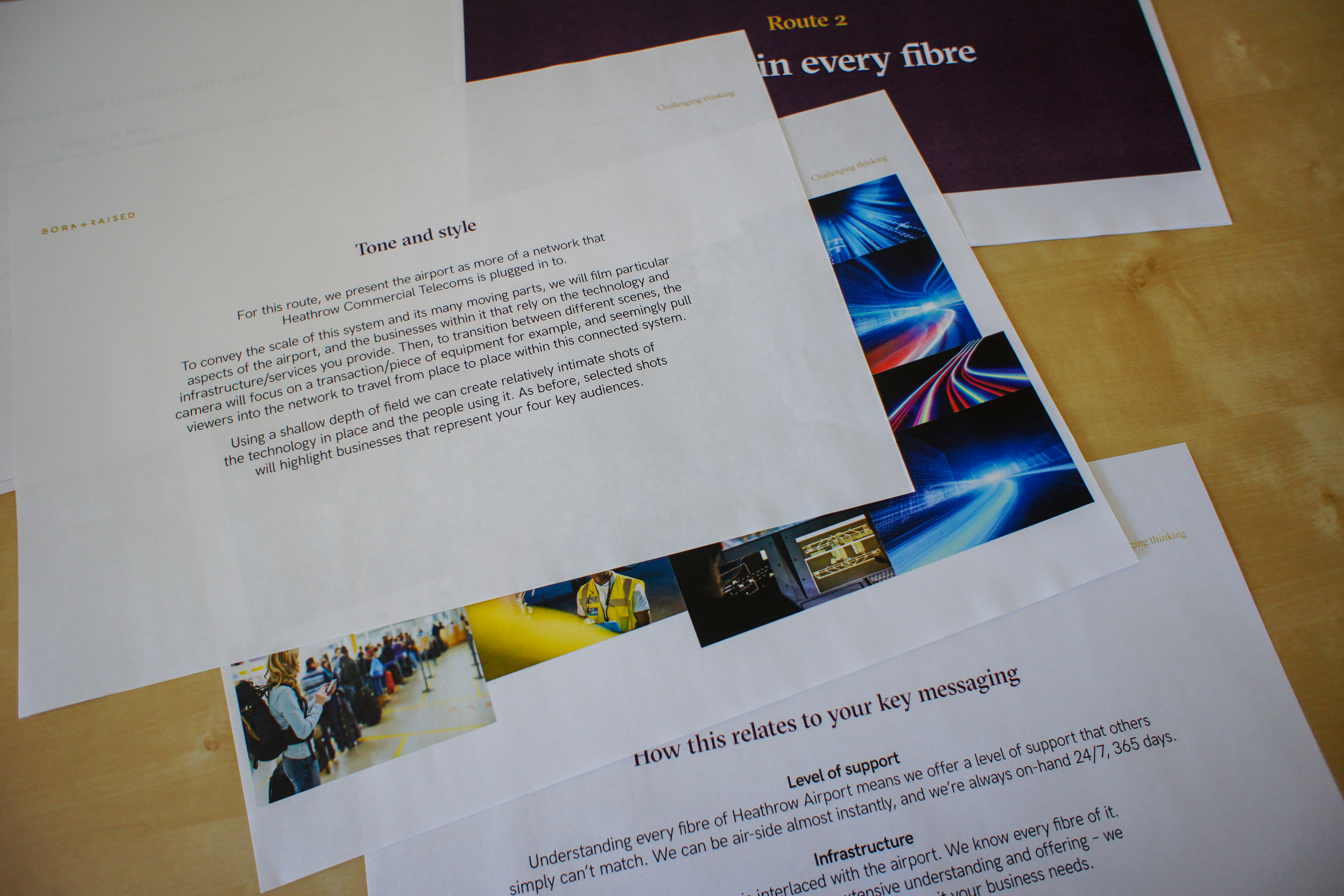 We wanted to use video to present Heathrow Airport as a living ecosystem in a similar way natural world documentaries portray the boundless wilderness. This was to convey the scale and diversity of settings within HCT's landscape.
To begin, wide angle or high vantage point shots would show planes coming and going alongside hurried activity on the tarmac. The viewer was then taken deeper into this landscape with overview scenes of crowded check-in desks and walkways. These would be followed by footage moving the viewer through security to enter duty free and food court areas. With each inward step we planned to show the airport's many operational settings, and compositionally, the video would narrow in focus to highlight the different businesses within this habitat to reflect HCT's key audiences.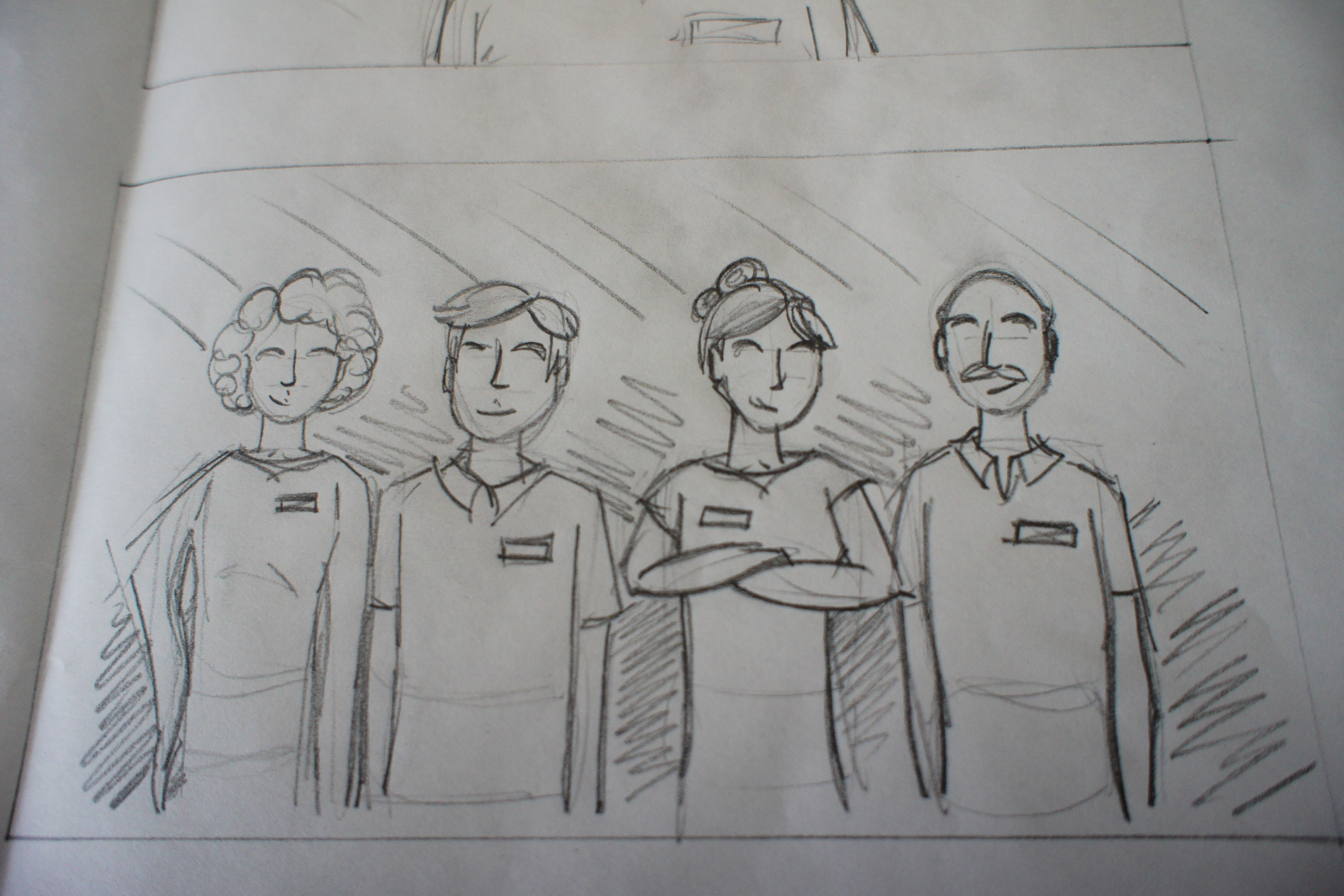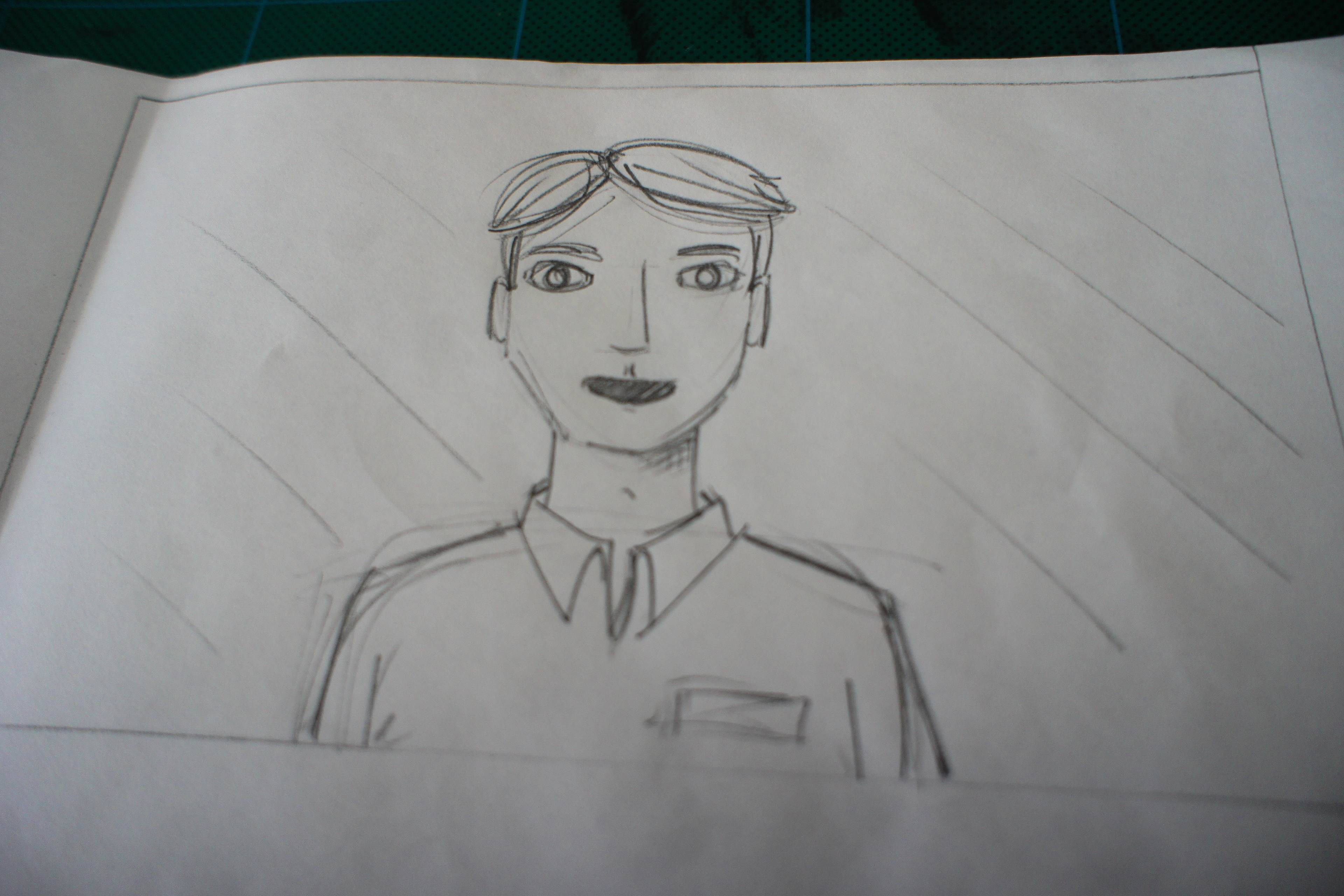 Along with the visuals, a calming narrator would describe the scenes and how HCT helps its customers thrive, as well as adapt to this changeable environment. And to finish, we wanted to cut to this narrator (a HCT employee) who would deliver the take-home message directly to the camera, contrasting the wider shots seen up to this point. Giving the brand awareness video a friendly face enables it to close with a trustworthy, approachable and reassuring sensibility.
Unfortunately this project was put on hold and the concept wasn't developed further.