The work featured here was from my time at Born + Raised. The stills photographer was
Nick Eagle
, and the videos were produced with
Content OD
.
The University of Sheffield's Accommodation Services team asked Born + Raised to produce a promotional campaign for university-managed accommodation, which would run alongside the university's student recruitment campaign.
The university recognises student housing as an additional revenue stream but is in competition with private student living providers as well as independent landlords. In addition, the university was already struggling to fill its rooms outside of its city-based accommodation. This meant the campaign needed to make living slightly out of town more appealing to students, and primarily promote its newly refurbished Ranmoor Endcliffe accommodation.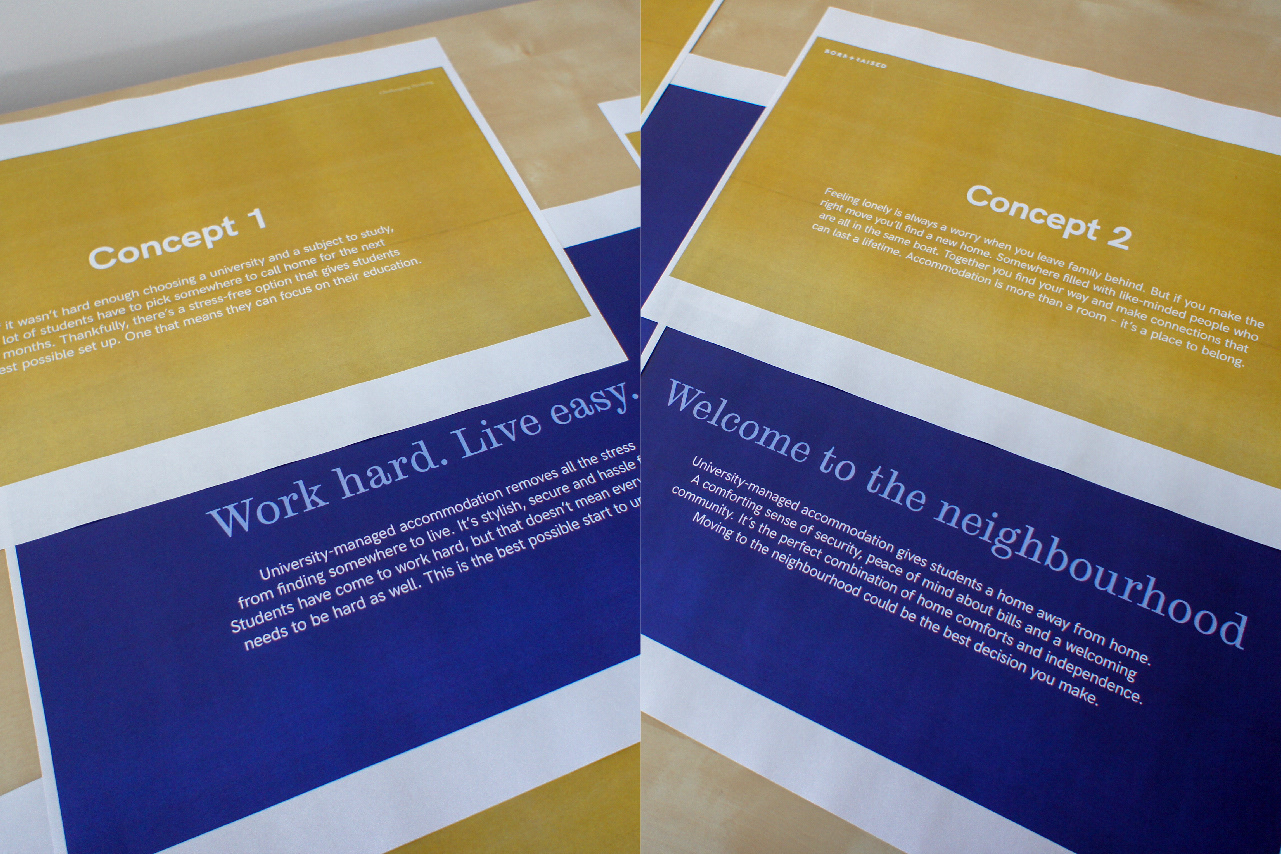 We (the creative team) had an array of positive and negative memories about our time in university accommodation, so we had various creative themes to explore and refine. However, I felt it was important to create a concept around the emotive aspects of student living because clearly these were the memories that had stuck with us most when recounting our experiences. I felt that it was this type of sentiment that would set the university's accommodation apart from other student living options, as well as those of other universities.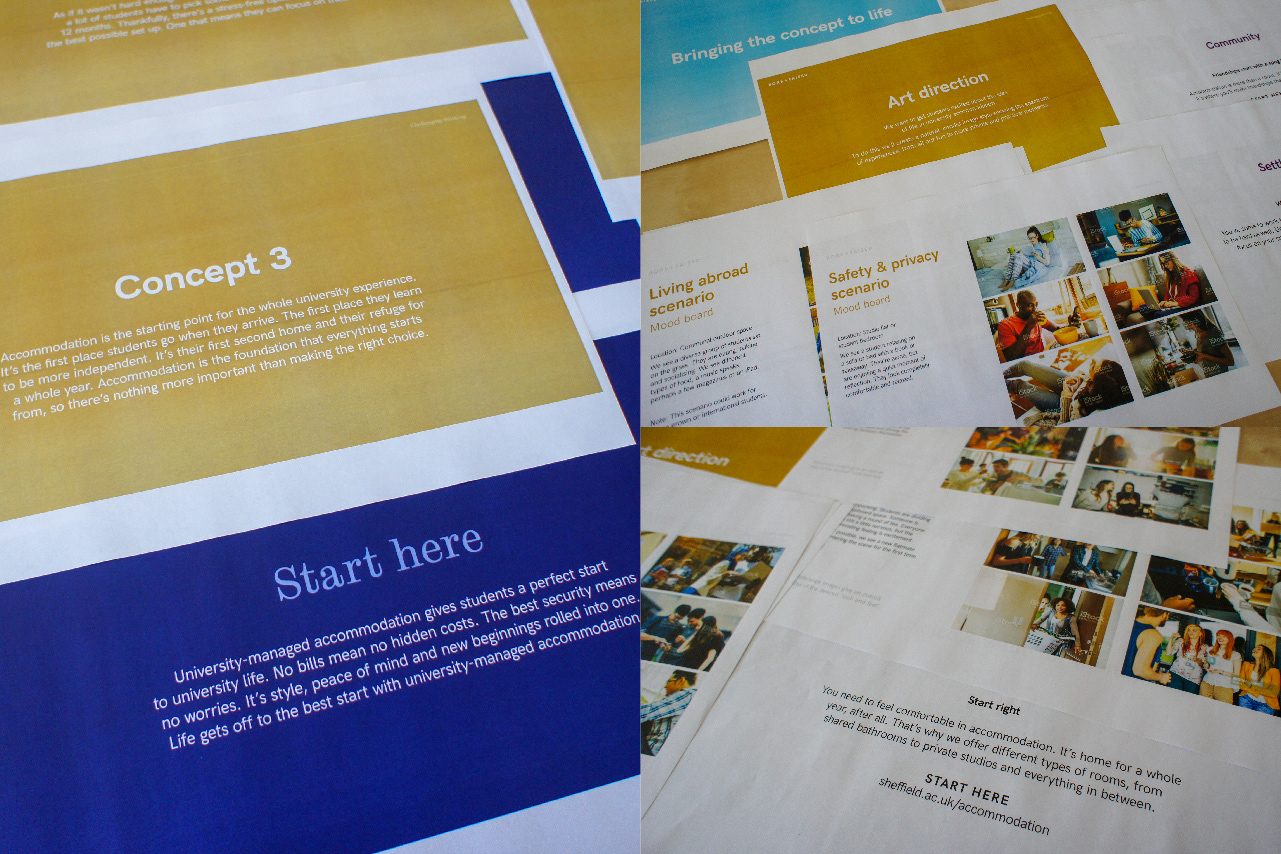 And that feeling paid off as the final concept; 'Start Here' captured the excitement and anxiety of living away from home for the first time in equal measure. This theme was able to reassure nervous students and, at the same time, get them excited for new experiences that university life brings. The campaign was able to highlight the importance of taking this big step, and the first place in which students take that step. The starting point at university isn't the first lecture or social event, it's being dropped off by a parent or guardian and carrying a box of kitchenware into a shared living space. It's seeing new faces, introducing yourself over a brew, and making a new place your first second home.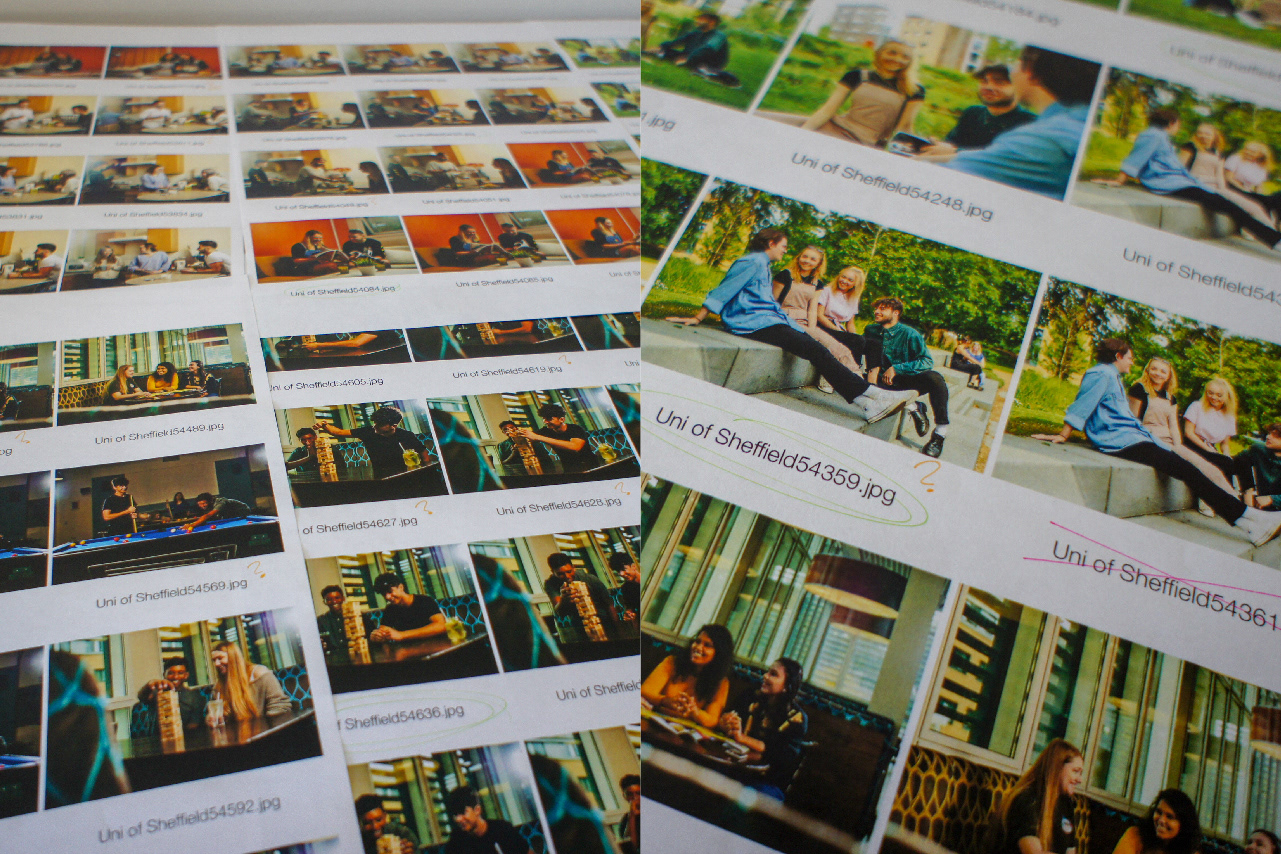 Together with a creative copywriter, I developed several student living scenarios that would visualise key messages the Accommodation Services team wanted prospective residents to really be aware of when considering where to live, such as settling in, safety and privacy, location and access, community, and living abroad.
Once we'd narrowed down our list of scenarios, a casting day was held for students currently living at Ranmoor Endcliffe. And then, with the help of two very organised project managers, I planned how to photograph and film each scenario with selected groups of residents. I subsequently went on location to art direct the two-day photo and video shoot before liaising with the editor responsible for putting the final cuts together.
A 75-second promotional video introduced open day accommodation talks (followed by a presentation that was also designed in the campaign style), and a set of short cuts were posted on the university's social media channels in the run-up to open days.
Each video focuses on a particular aspect of student living in a way that showcases the Ranmoor Endcliffe halls and grounds. This gave prospective residents an idea of the spacious living standards and landscaped setting available to them just outside of the city-centre.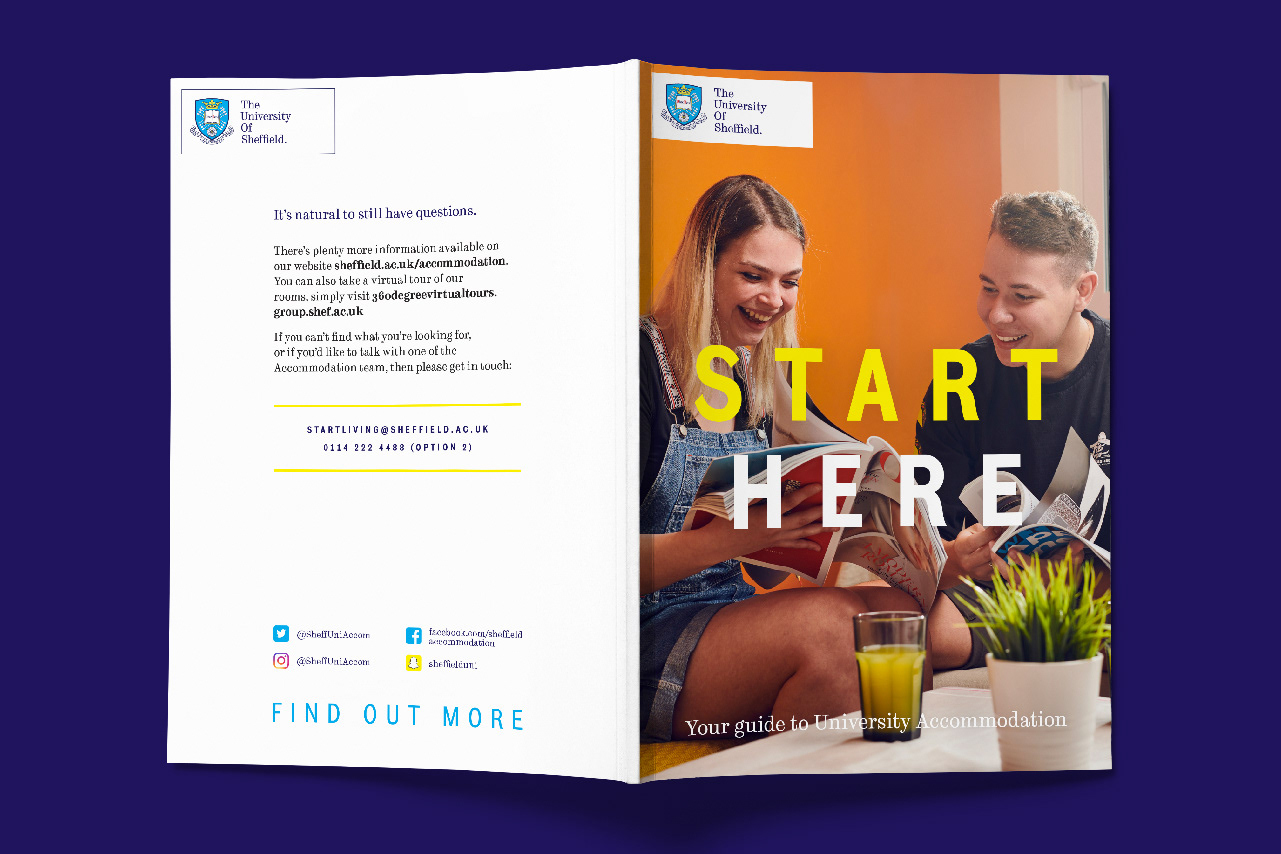 The university had a well-informed suite of Accommodation Services leaflets. However, even though they were packed with information, there was no compelling reason why students should pick university-managed accommodation ahead of any others. Nor were the existing leaflets eye-catching when laid out amid an array of paraphernalia typically seen at open events.
A new brochure was created, filled with the new lifestyle-led photographs and key messages featured in the videos, to paint a positive and lively picture of what the university's student accommodation had to offer. The design strikes the right balance between using bold headlines with eye-catching imagery to help students imagine themselves in those pictures, and well-presented body copy to outline the detailed information parents and guardians may be more concerned about.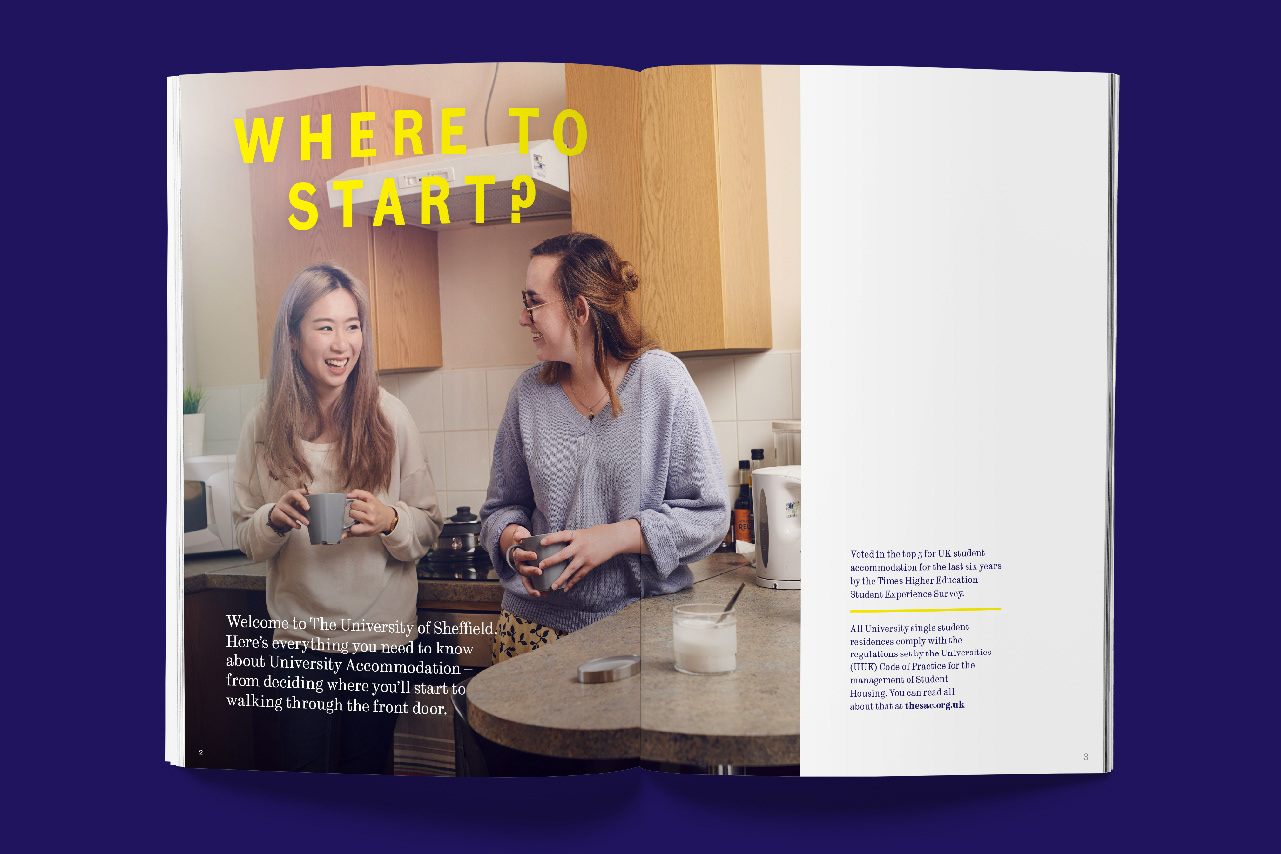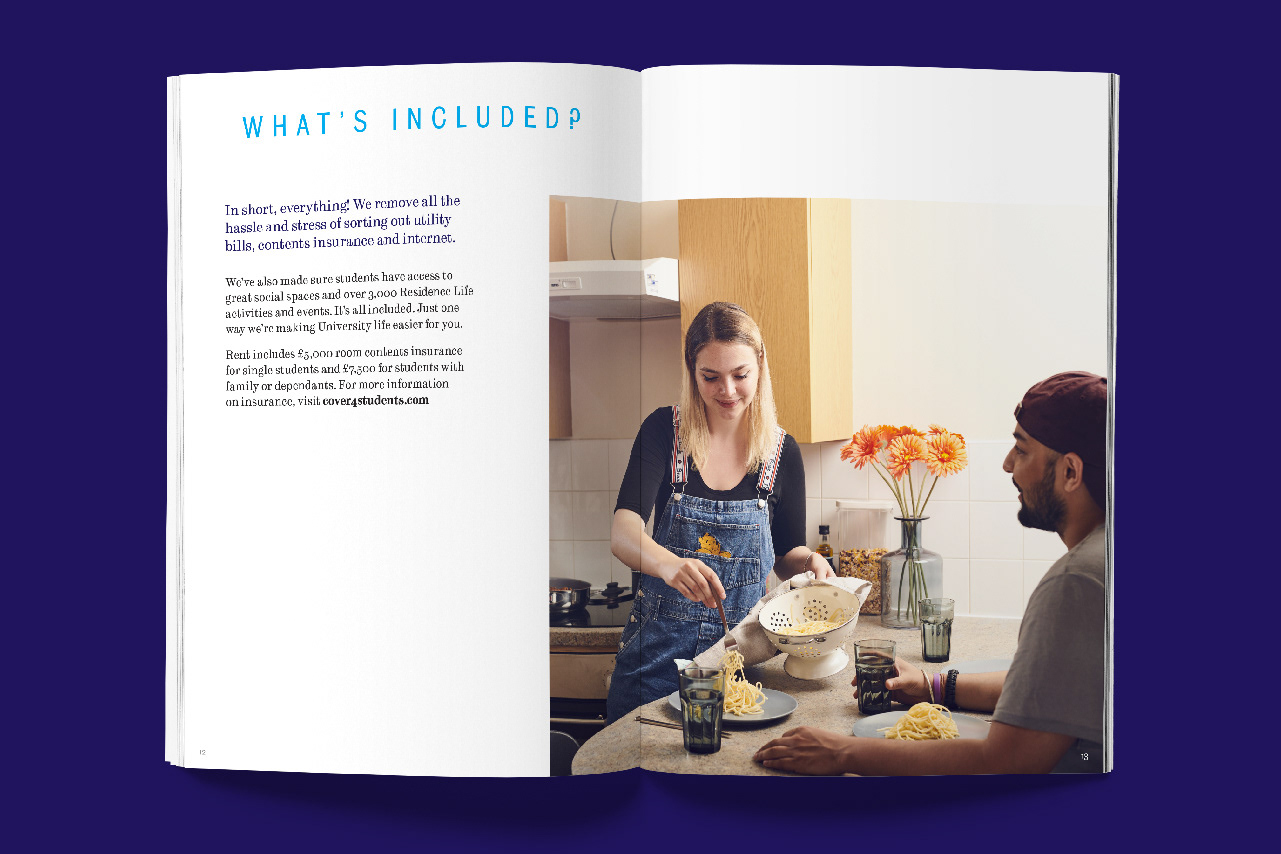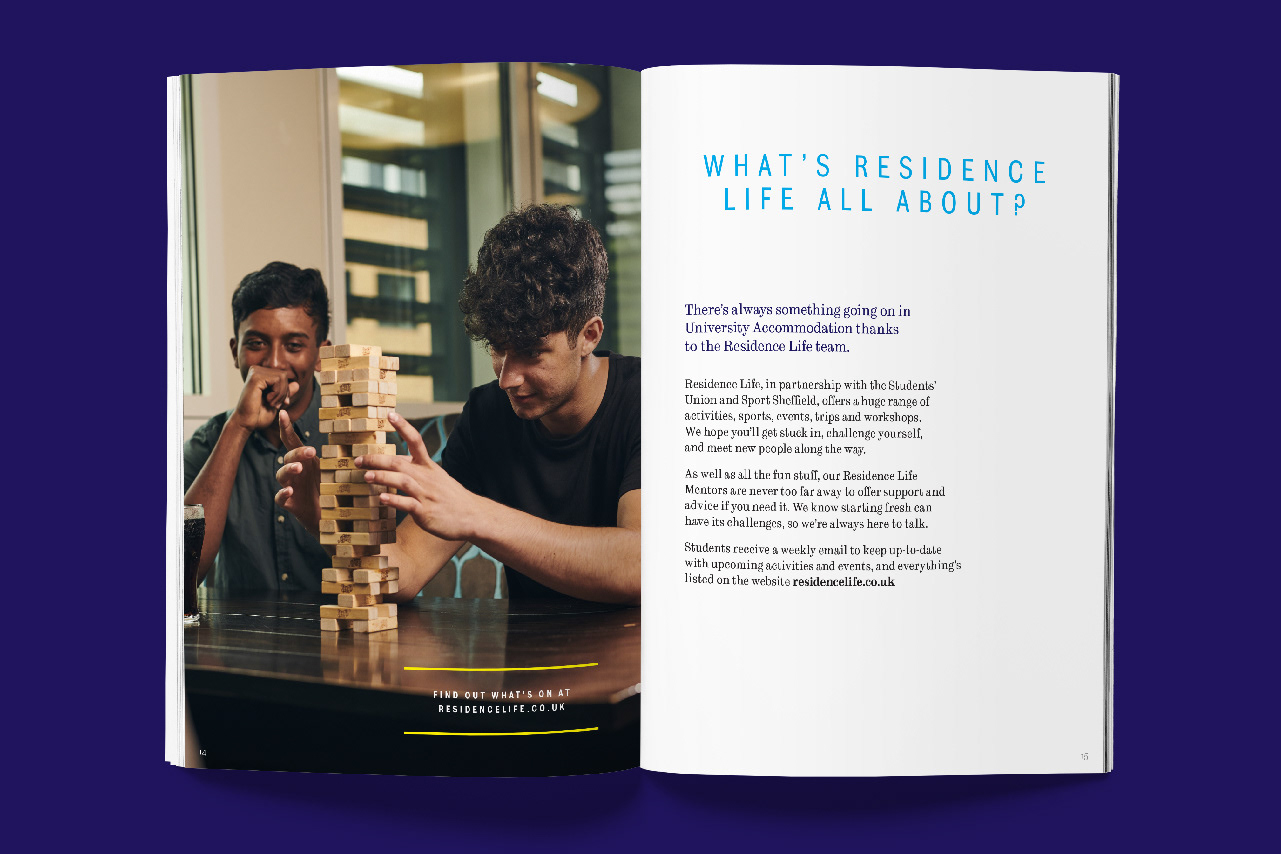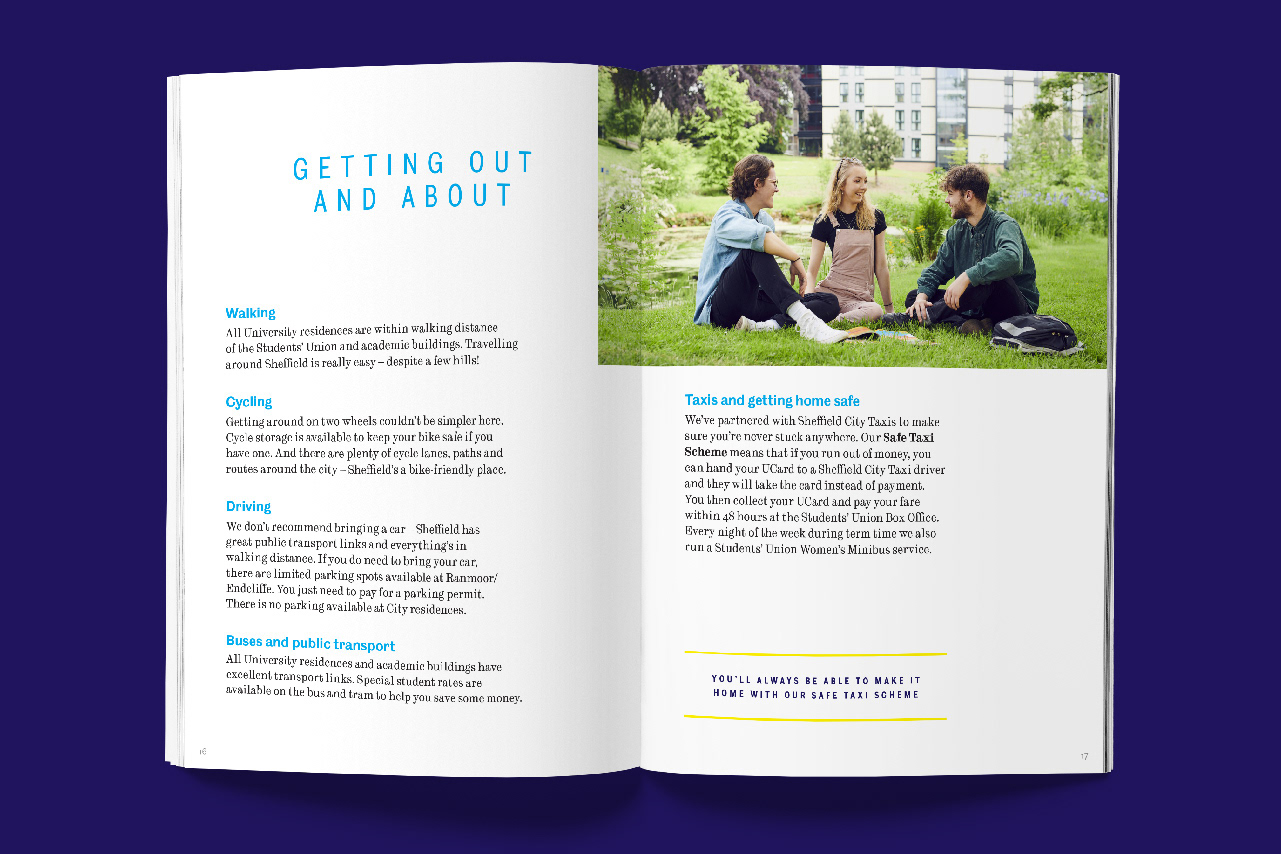 The stills photography was also used to create social media posts in support of the video content. Because we photographed a range of scenarios with several groups of current residents, the client was left with a wide range of imagery and accompanying message bank to run a lengthy campaign.