The work featured here was from my time at Born + Raised
.
SciBite is a data extraction and analysis company working predominantly within life sciences. SciBite asked Born + Raised to develop its existing visual identity in a way that would help to reposition the brand as analytics product leaders because the company was planning to market itself to new, previously untargeted industries. This involved rearticulating the brand proposition alongside developing a graphic style, in addition to a suite of product icons, to support the core brand identity. The project also included a website redesign and an exhibition stand with printed marketing materials for a launch event.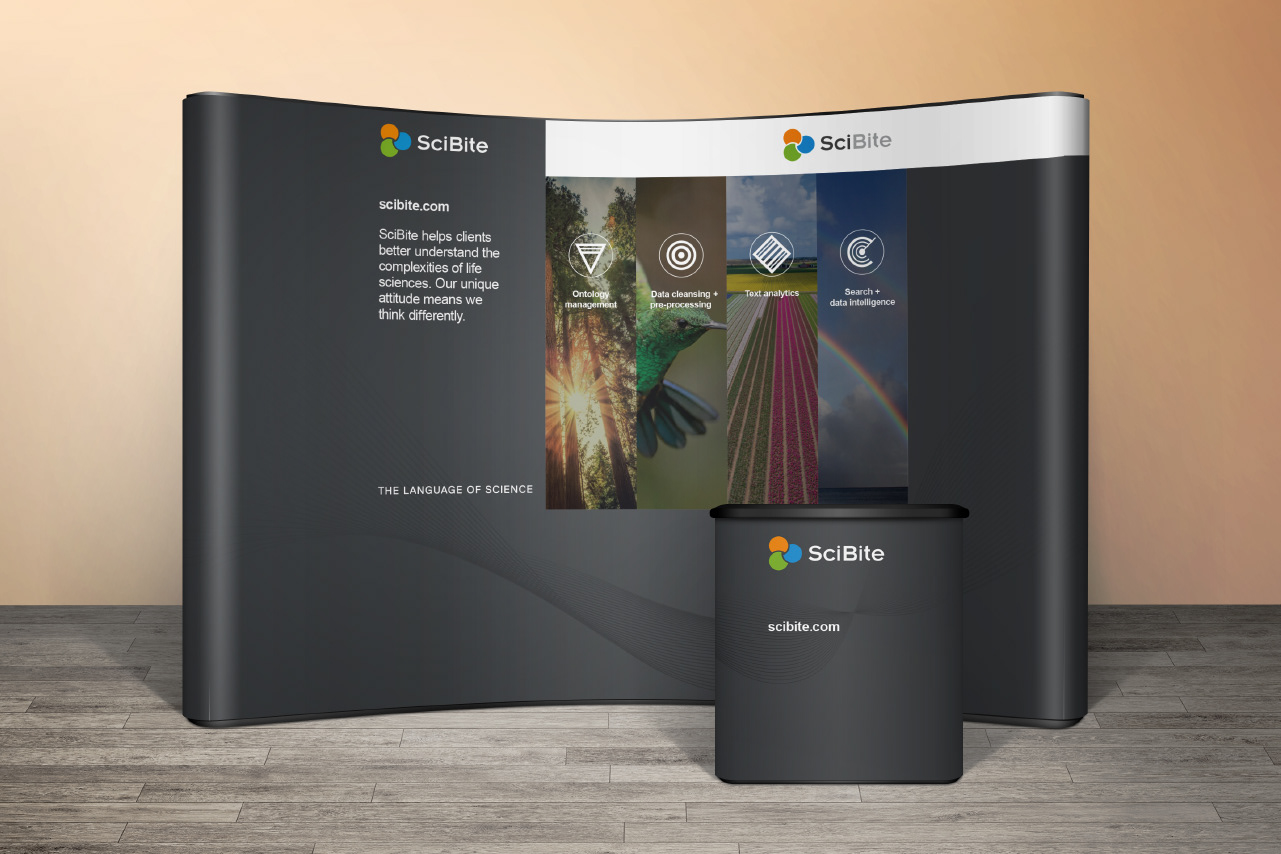 I carried out a brand audit and competitor research to see if there were any common themes in layout, colour usage or graphic styling and photography to identify how SciBite could visually stand out among the life sciences tech sector. I found that most competitor websites looked very similar. Most used seemingly off-the-shelf template layouts, various shades of blue and generic graphic representations of DNA, alongside bitstream manipulated stock imagery to communicate their positions as life science and software-led companies.

SciBite already had an advantage here as its bright colour palette gave it a visual differentiator. Using the existing palette to our advantage it was decided that the bold colours should be used sparingly, allowing grey to become the dominant shade alongside generous amounts of clear space to make the brand feel more sophisticated and nuanced next to its competitors. Large areas of clear space could be diffused by incorporating waveform graphic devices that I created to represent the adaptive, evolving algorithms behind SciBite's platform.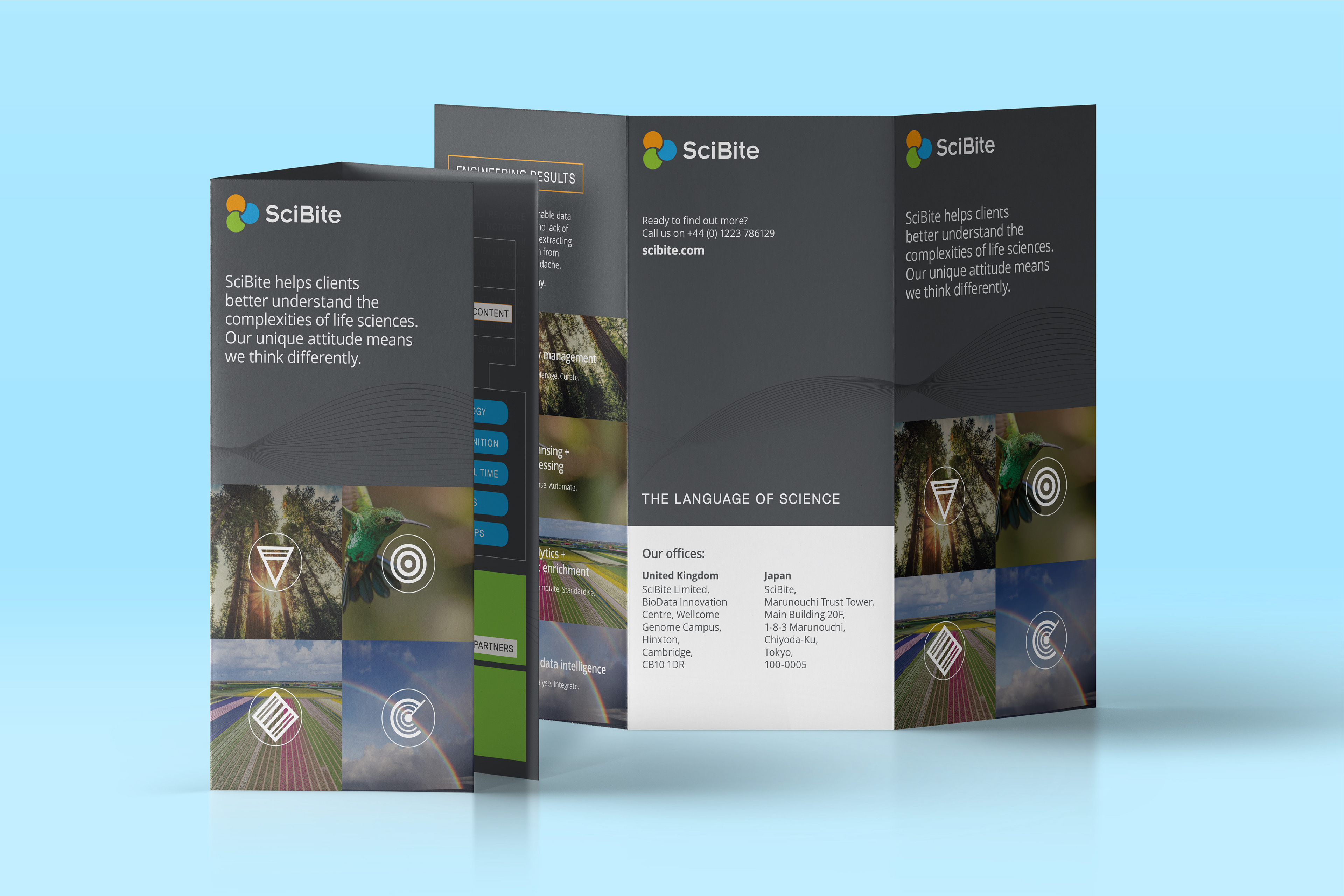 As SciBite's core semantic platform offering enabled businesses to organise and make sense of comprehensive qualitative and quantitative research and data sets, any marketing communications needed to reflect the structure, organisation and clarity delivered by the software. Using a combination of subtle graphic textures and considered use of the bright, uplifting colour palette I was able to bring depth to spacious layouts and produce an uncomplicated look. This helped to make the complex subject matter feel more accessible and attractive to potential clients.
To reposition SciBite as a product leader we needed to convey its expertise alongside various capabilities regarding its methods and technologies. The company's existing brand messages promoted sector-specific product descriptions and scenarios, which gave potential clients only a narrow view of what SciBite could offer. In order to broaden this view SciBite's key messages were rearticulated. Reframed as service-focused solutions addressing the problems that could be solved and managed, regardless of industry type, the software products became relevant to a wider audience.
This articulation influenced the structure and content hierarchy of the new website. It enabled the company's core offering and products to sit prominently and confidently on the homepage; quickly and clearly conveying SciBite's expertise.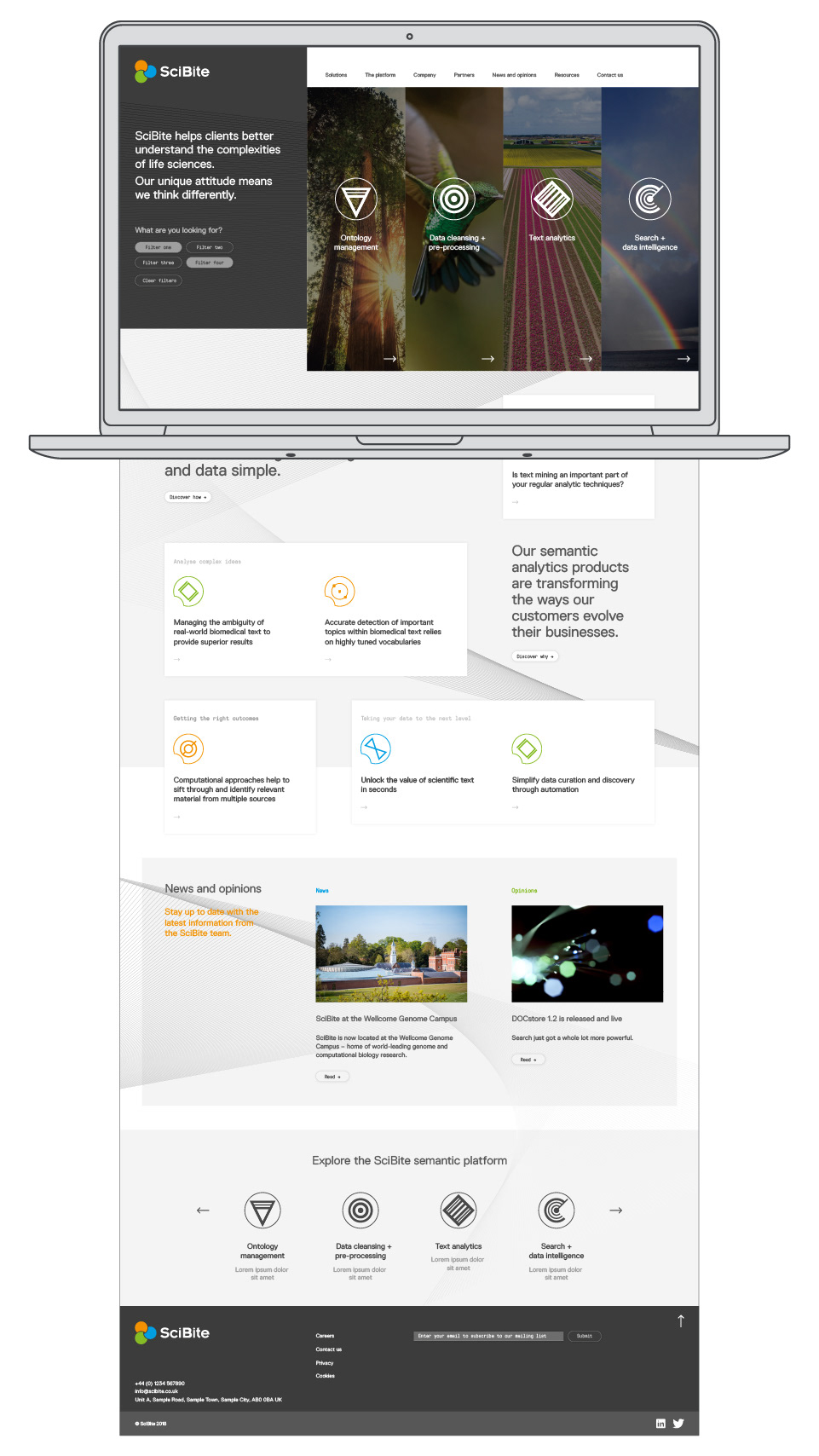 I wanted to move away from typical stock photography found on competitor websites, so I looked for meaning within the platform's core themes that would allow unusual or unexpected images to indirectly depict certain characteristics. I then used these themes to implement some logic and graphic rules to create a suite of bespoke product icons. These also borrowed the 'bitten' circular shape from SciBite's logo marque to add visual coherence. By designing custom icons and incorporating unconventional images, I was able to help the brand stand out by giving it an ownable method of product representation and content categorisation.